How to Make New York Style Homemade Bagels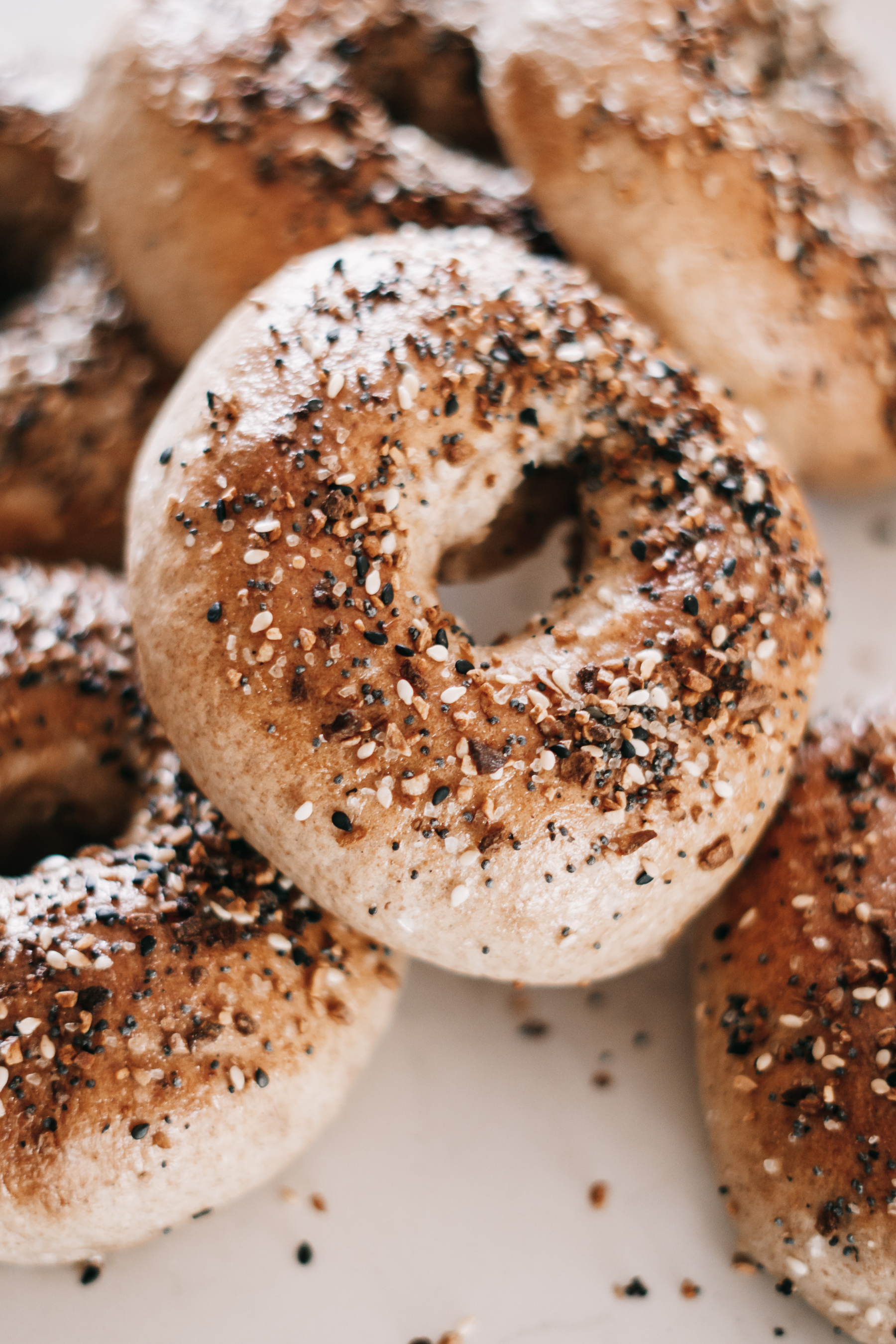 food
Today we are going to make New York style homemade bagels! I'm going show you how to do it right now!
Follow this video below or scroll down to the step by step instructions.
Here is the list of things you'll need to make these delicious bagels!
1 1/2 tbsp sugar
1 tbsp yeast
3 1/2 cups of bread flour
Olive oil
2 egg whites
Everything but the bagel spice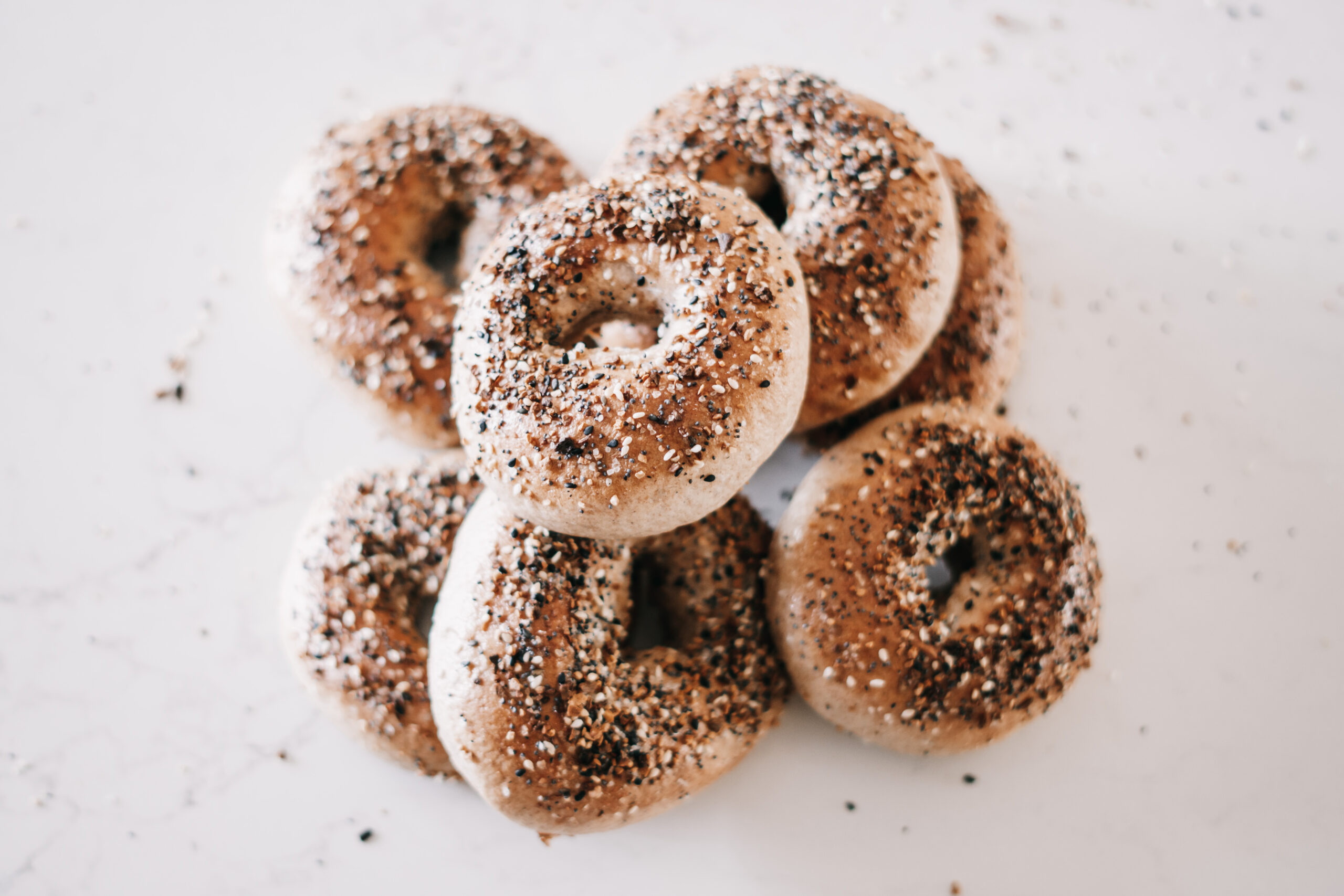 Now that you have all your ingredients, let's get to the kitchen!
Here is step by step how to make the New York style homemade bagels:
Bloom your yeast, add warm 320ml of water and your 1 1/2 tbsp sugar. Stir to dissolve all the sugar and mix in your 1 tbsp of yeast, stir lightly, set aside for 10 minutes.
Next take 3 1/2 cups of bread flour, put it in a big container.
Take 1 1/2 tsp of salt, add in bread flour and mix together.
After 10 minutes of the yeast resting, pour it into the flour container and mix together with your hands. Mix till a shaggy consistency, the dough does not need to be perfectly together.
Sprinkle your surface lightly with flour, and dump your dough onto your surface. Knead the dough for 10 minutes.
After 10 minutes of kneading, get your dough should look like a perfect round ball, tuck all the corners in.
Grab your big container again, wash it out, then use a paper towel to line the inside of the container with olive oil. Then place your ball of dough in the centre of the container. Swirl the dough around so the olive oil gets on all the sides of dough. Cover with a towel and set aside for 1 hour.
After 1 hour, the dough should have risen! Dump out dough onto your floured surface and get ready to cut and divide the dough up for your bagels!
Cut in half, then cut the half into 4 equal triangle pieces. Do the same with the other half of the dough.
Now take one of your triangle dough and tuck each corner in and flip over and roll. Make sure the bottom of the ball, where the corners have been tucked in are all tight and rolled up.
Take your pointer finger and your thumb and pinch the dough ball and work it through the middle. Slowly start stretching out the bagel dough. It will be a bit bigger than you think, make it about the size of a golf ball. Cover set aside with a damp cloth for 10 minutes.
Get a big pot, fill it with water and bring it to a slow roll. Then make your egg wash, 2 egg whites and a bit of water.
Now grab your bagels and put them in the slow rolling water, and cook for 1 minute on each side. Try to not crowd the bagels! Once they are down, put them onto a lightly greased baking sheet.
Drizzle the egg wash over top of all the bagels! Then sprinkle over the everything but the bagel spice.
Into the oven the bagels go! Cook for 20 minutes at 425ºF, make sure to check on them as they may be done quicker depending on your oven!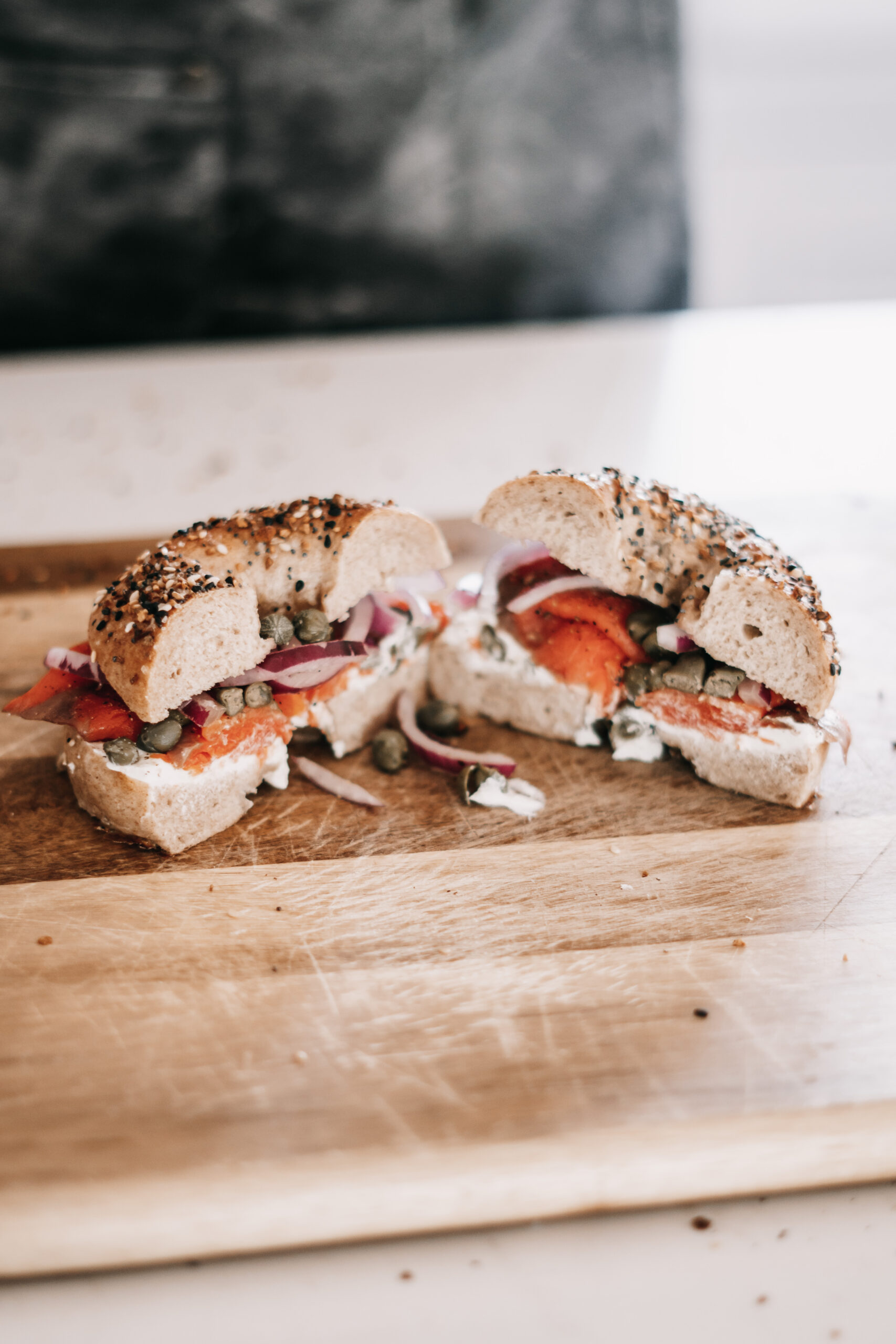 There you have it! New York style homemade bagels! I made my bagels into a delicious cream cheese salmon lox sandwich.
I hope this brings you back to eating bagels in New York or gives you a little taste of what New York bagels are!
Justin
---