Everything on My Wish List This Holiday Season!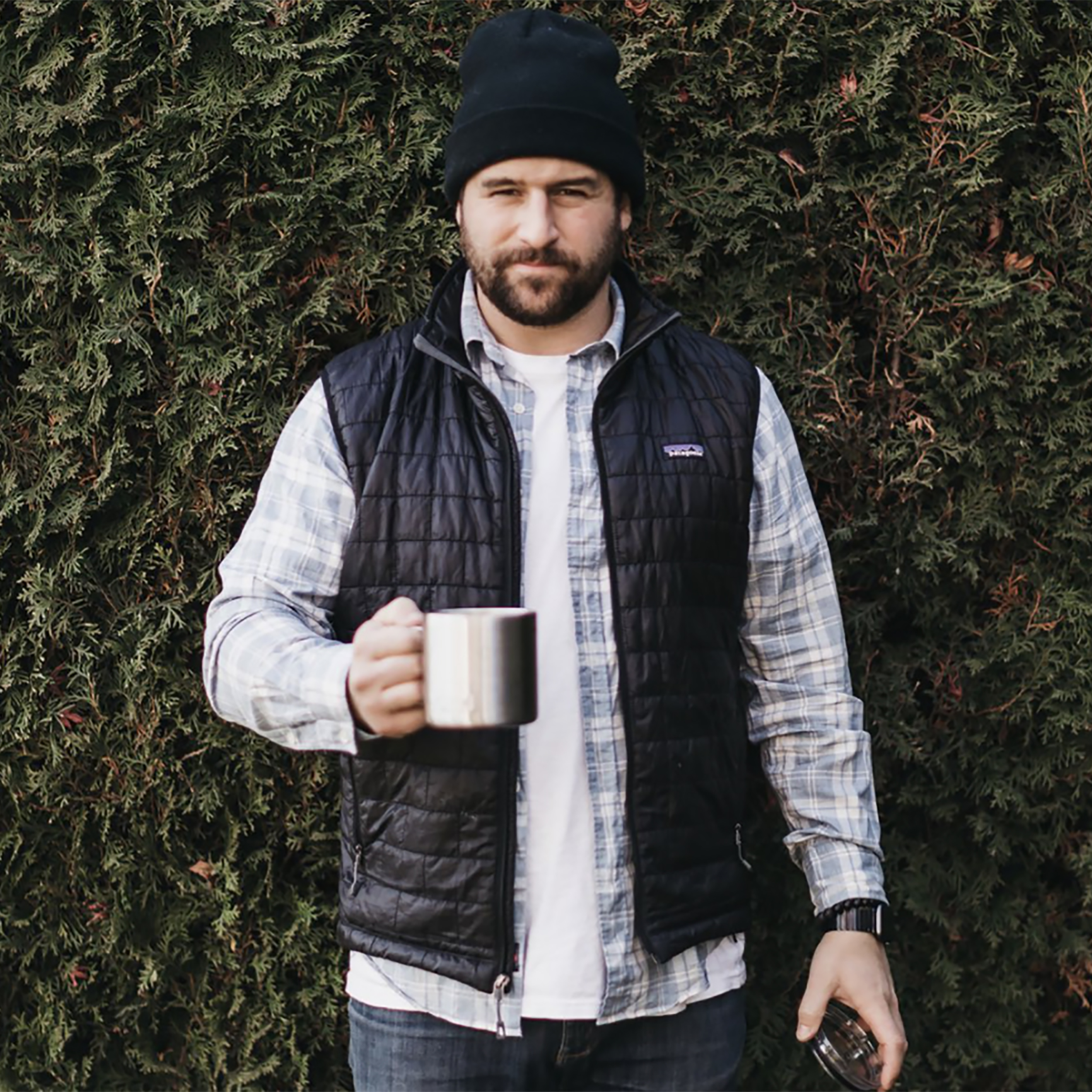 round ups
I don't know about you, but I have such a difficult time shopping for the men in my life around the holiday season! I find that if Justin or my dad ever need something they just go out and buy it for themselves!
Do you have a man on your list who is tough to shop for? Well fear not, today I am rounding up a holiday gift guide for every man on your list! Featuring some of Justin's favourite things and some extra items that he has on his list this year!
Let's get right to it!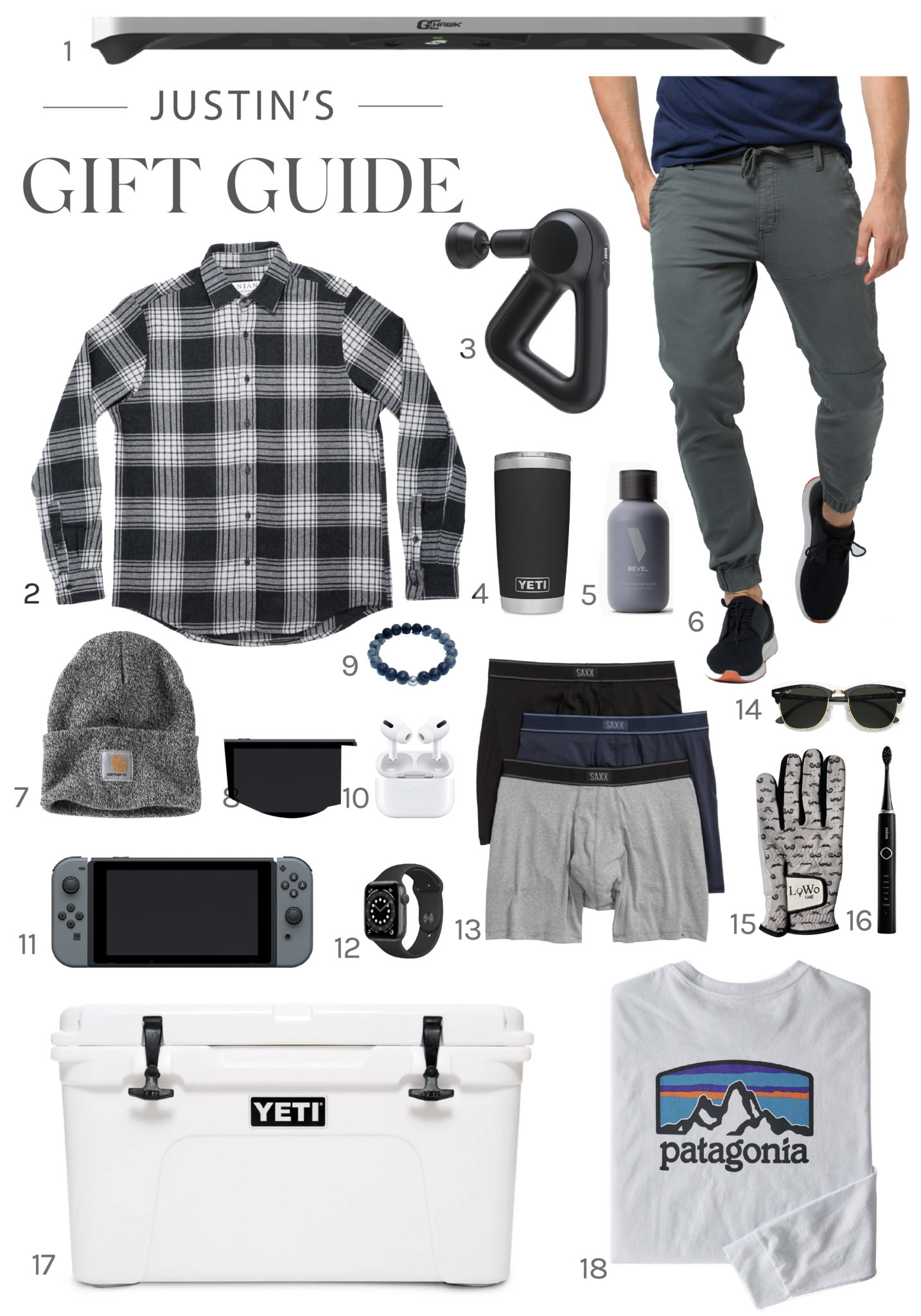 1. Foresight Golf Simulator | 2. Anian Plaid Shirt |3. Massage Gun | 4. Yeti Mug | 5. Bevel Restoring Balm | 6. Duer Pants | 7. Carhartt Hat | 8. Wreck Jar | 9. Salt + Saje Bracelet | 10. AirPods | 11. Nintendo Switch | 12. Apple Watch | 13. Saxx Underwear | 14. RayBans |15. Lowo Golf Glove | 16. Bruush Toothbrush | 17. Yeti Cooler | 18. Patagonia Long Sleeve

1. Gadgets
Ok, is Justin the only one that goes gaga over anything technology-related? Some of the techie products that he already has and loves are his AirPods and the Nintendo Switch! What I love most about the Nintendo Switch is that it's something that Justin and Leo enjoy doing together, so much so that they could spend hours playing Super Mario Bros Deluxe and not even know it! LOL!
Now, if you spend quite a bit of time on social media like me, you have probably seen this massage gun everywhere! And this year, with all of the self-care that we need right now, I think this would make the perfect gift for him! And that way he can massage himself, win-win if you ask me! LOL!

2. Apparel
I have to say that Justin is pretty trendy, but he also loves comfort (I mean what guy doesn't?). So when it comes to clothing he has only a few tried and true brands that he doesn't veer too far from! His all-time favourites are any pair of pants from Duer, this flannel shirt from Anian, Saxx underwear (of course!), a Carhartt beanie, and any shirts from Patagonia or Billabong!
Pro gift tip: If the man in your life does not have Saxx underwear, you need to pick them up a pair ASAP! It's a game-changer, so I've heard!!

3. Accessories
When it comes to accessories Justin isn't one to wear a lot, but he has a few that he never (and I mean never!) leaves the house without! You can find him always sporting his Salt + Saje bracelet, his Apple Watch, his RayBans, a cap in the Summer or a beanie in the Winter!

4. Outdoor
If you saw Justin's man cave update on the blog or his Instagram, you would have likely noticed his collection of Yeti products! While they are a bit pricey, their products are seriously next-level! The cooler is practically a mini-fridge with handles and keeps your food cold for days! And don't even get me started about their travel mugs, they are a fan-favourite in our household!
Now, when it comes to sports I'm sure you know how much of an avid golfer fan Justin is! So much so, that he recently had the Foresight GC Hawk Launch Monitor installed in his man cave. While it is on the rather expensive side, I have to admit it's amazing! Not only can he golf various high-end courses from the comfort of our own home, but the kids can also watch movies and play games on it as well!

5. Self-Care
Last but not least, let's talk self-care! I don't know about the men in your life but Justin doesn't have a very robust self-care routine! So this holiday season I have my eye on a couple of items for him like this sleek electric toothbrush from Bruush and this dermatologist-tested restoring balm from Bevel that helps prevent razor burn!

Well, there you have it! A complete gift guide for him, featuring all of Justin's favourite and a few items that I have my eye on for the men in my life! As always, make sure to check out my shop page and Instagram highlights for some other ideas!
xo
Jilly!
---