An Unreal Weekend Trip to Nimmo Bay!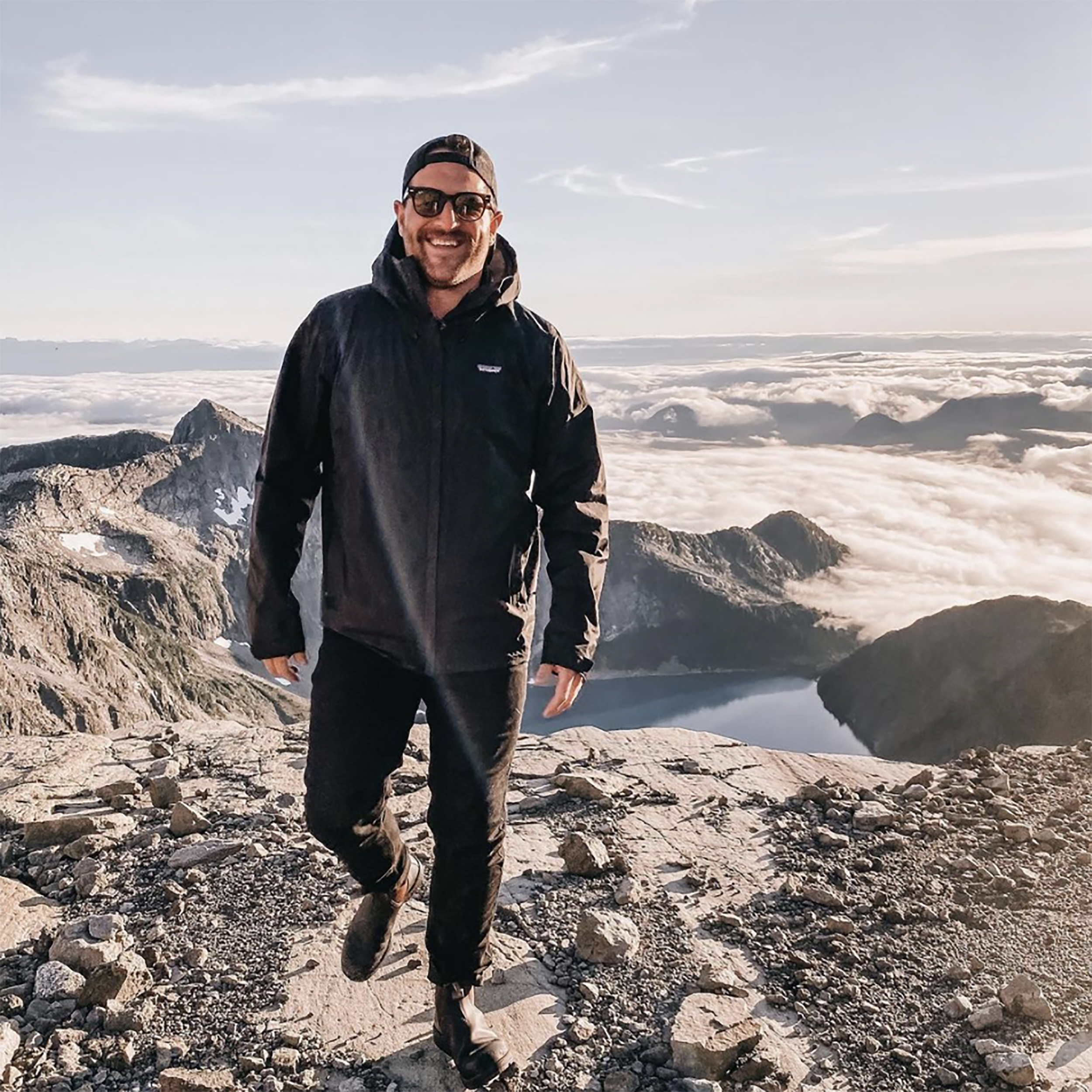 travel
So, if you follow Jill on Instagram or you are a frequent reader over on her blog, you would have seen or read about our trip to Nimmo Bay back in October of last year. With the weather starting to get warmer here in BC, I was reminiscing on how unreal this trip was and wanted to share my perspective on this magical getaway we were so lucky to experience!
The first thing is first, how the heck did we find out about this little slice of heaven located in the Great Bear Rainforest? Well, my good buddy Matt August owner of August Motors, introduced us to the owners of Nimmo Bay at one of his car auctions a few years ago, and we instantly hit it off. After that event, we started chatting about visiting their resort, and I swear we planned and replanned this trip about ten times; I'm not even exaggerating. But when COVID hit, we stayed closer to home, travelled locally and camped ALOT, so when the opportunity presented itself for us to head to this magical place, we were all on board.
We were almost off to the races; the last thing we need to line up was transportation from Vancouver to Nimmo Bay. So, I jumped on the phone and contacted my good buddy Travis who owns Private Sky Aviation, and he said, "leave it with me," and took care of all of the travel details. When the big day arrived, we headed out bright and early with Tori and Charles from Kelowna to Vancouver to meet our pilot and hop in the plane. Travis ended up organizing an otter floatplane. It was sick, not to mention we had the entire vessel to ourselves. The plane ride from Vancouver to Nimmo bay was absolutely gorgeous; we took in the scenery, popped some champagne and chatted with Gord, our pilot. After talking Gord's ear off (I called shotgun!) I learned that he is one of the biggest Mason Bee suppliers in all of Canada. How wicked is that? Did you know that you can rent and buy Mason Bee's online from Gord all from the comfort of your own home? If you are interested in learning more, check out his website here.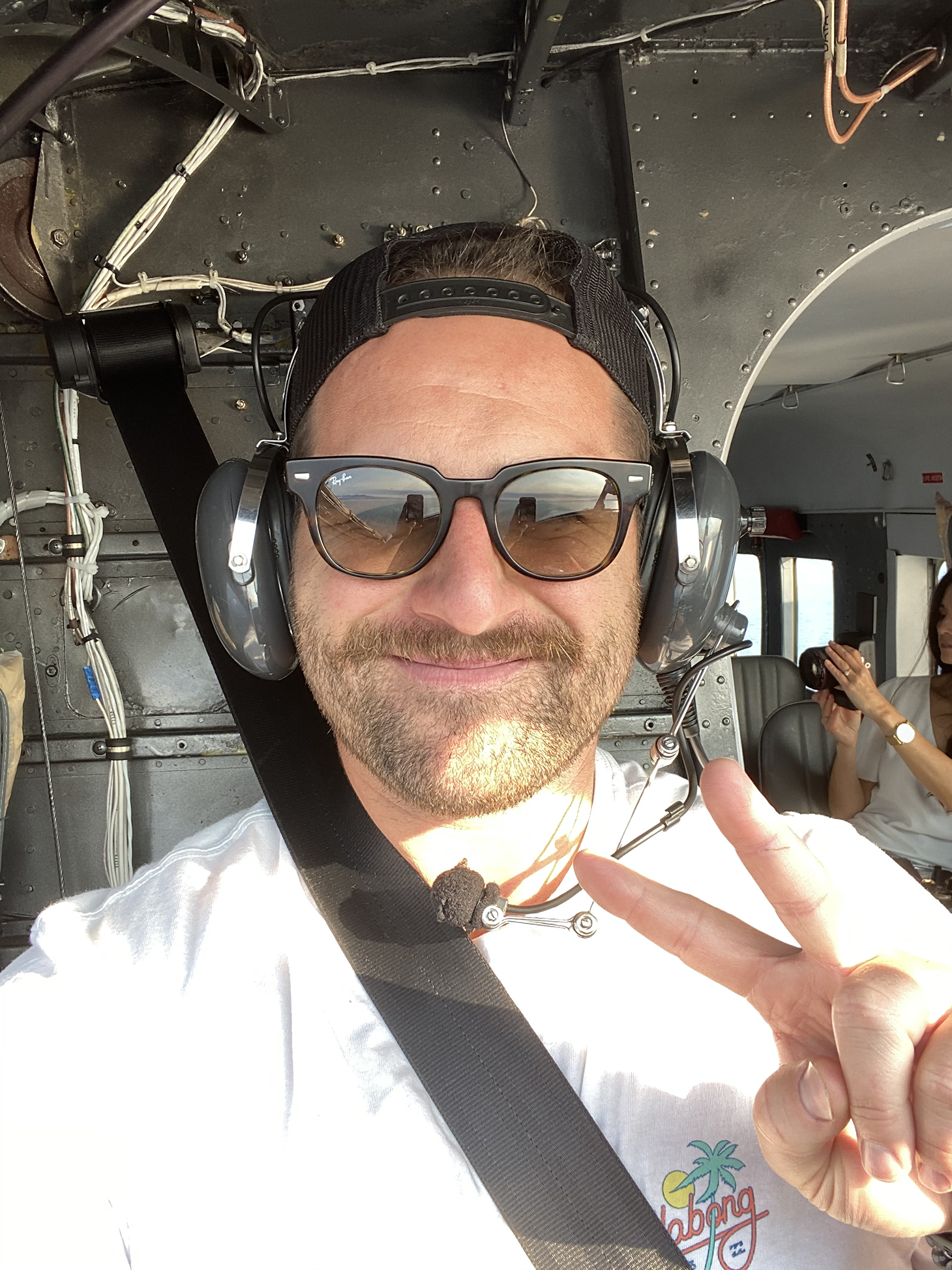 While we were chatting all about Mason Bee's, Gord took us on the scenic route headed to Nimmo Bay. We were flying over Sunshine Coast and Quadra Island. As soon as Gord mentioned Quadra Island, I had a flashback of when my buddy, Maddy Bullock and I used to kayak from Quadra Island to Marina Island and camp out there when we were younger, talk about the good ol' days.
As soon as we arrived at Nimmo Bay, I opened up the floatplane door and remembered being hit with this extremely cool, moist and humid air; it was such a unique experience; it truly feels like you've landed in a tropical paradise. The Nimmo Bay staff greeted us as we arrived and helped us get settled and checked in. After we got all of our things unpacked, we ended up hanging out and chilling for a bit and then met back down at the main dock for dinner and drinks. The food, the drinks and the service were absolutely incredible. It is a five-star experience through and through; the food is just top-notch and even better than you would expect.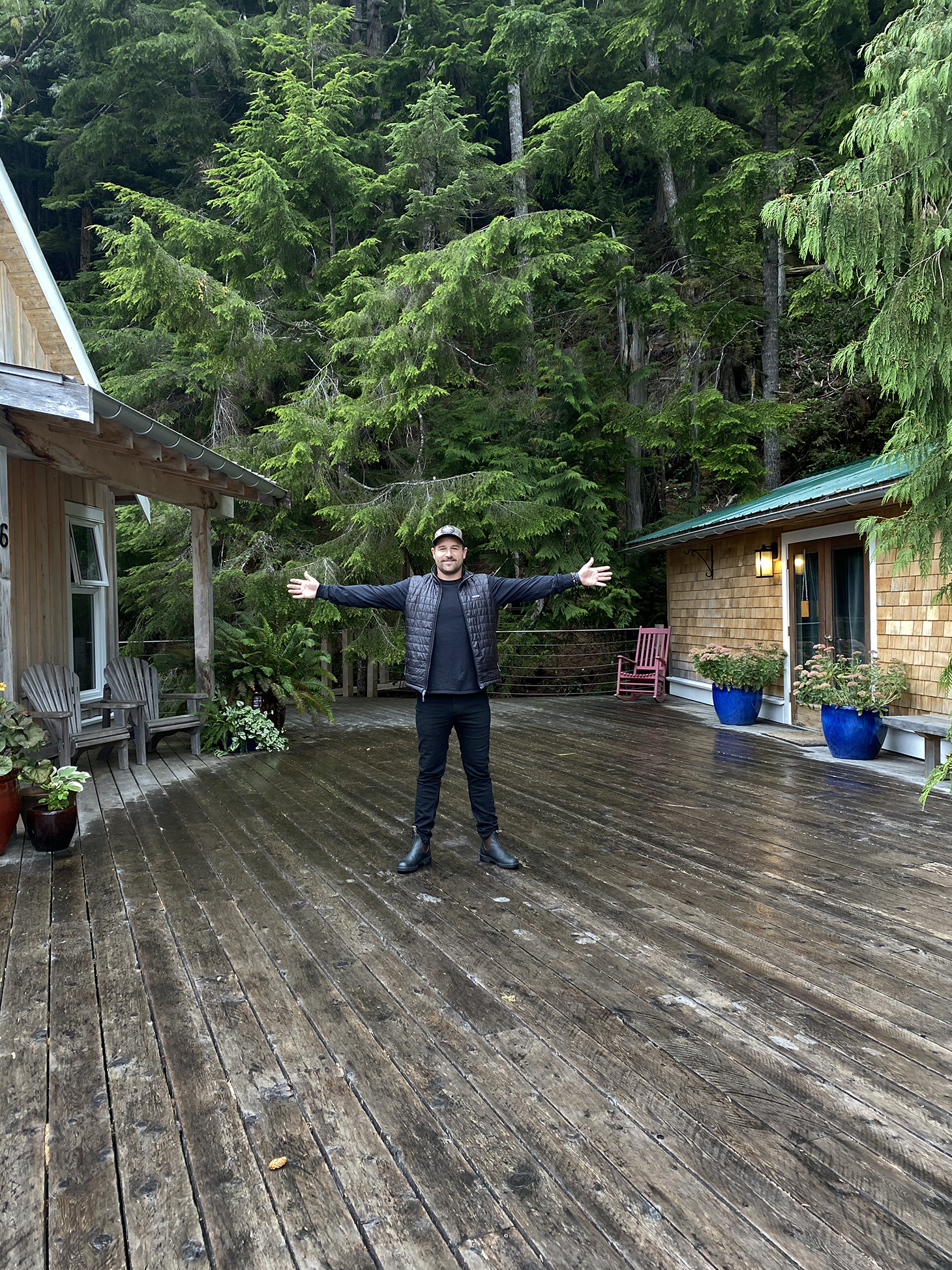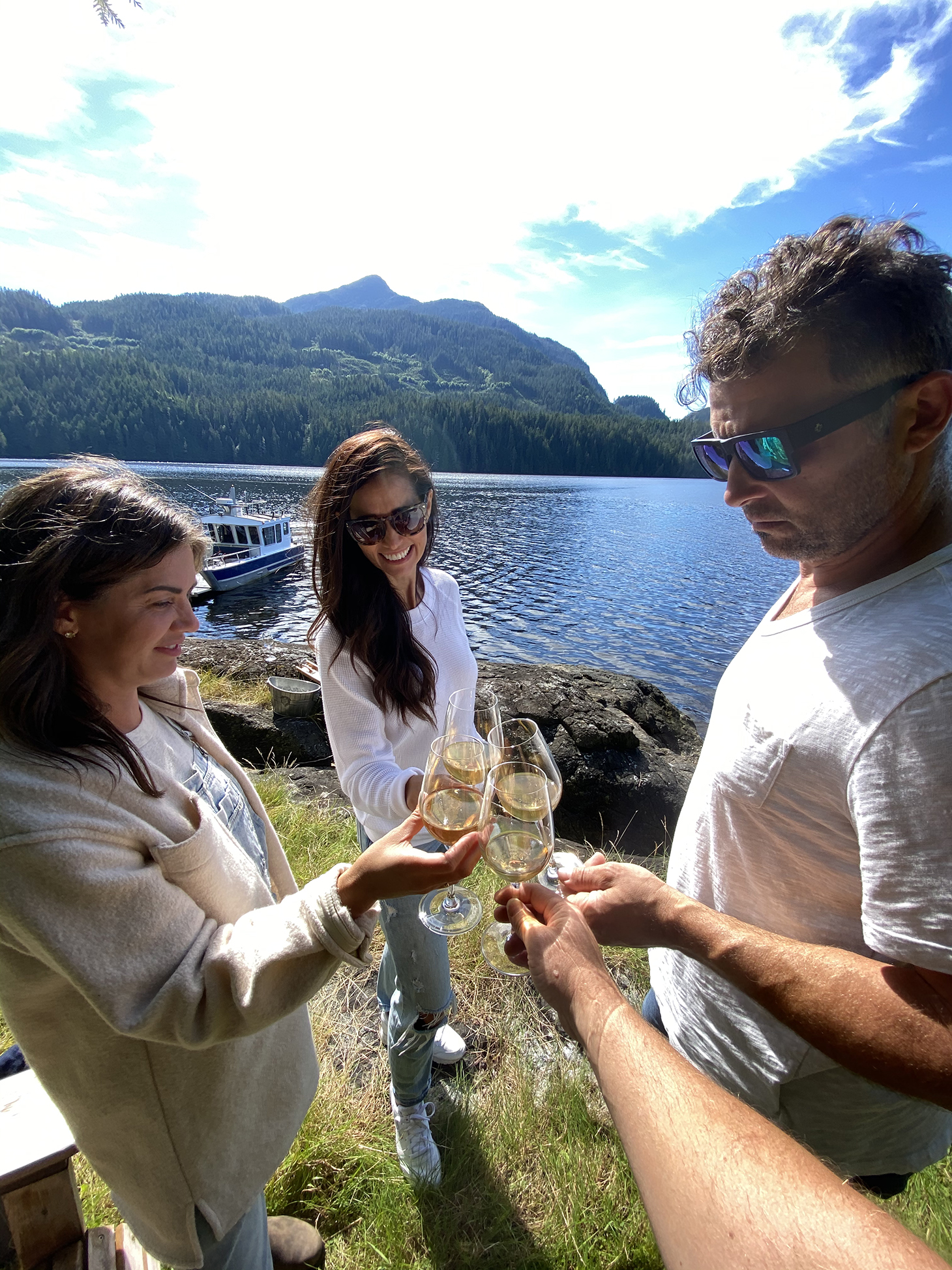 The next day when we got up, I remember having one of the best nights of sleep of my life, no kids or dogs waking you up throughout the night. And there is just something so peaceful about having no cellphone reception and being isolated on a magical island. After breakfast, we went out for a kayak ride and followed by a boat excursion chasing a pod of dolphins and spotting bald eagles. After our nature watch, we bellied up on the beach, a completely remote destination, and the Nimmo Bay team had organized an entire picnic set-up for us, with every Yeti product you could ever imagine. Many of you may know that I am a BIG fan of all things Yeti, and as it turns out, they had a full photoshoot up at Nimmo Bay and gifted some of their products to the resort. After our delicious and peaceful picnic, we headed back to the resort, and the team surprised us with another excursion; they wouldn't tell us where we were headed. All they mentioned was that we had only 20 mins to get ready.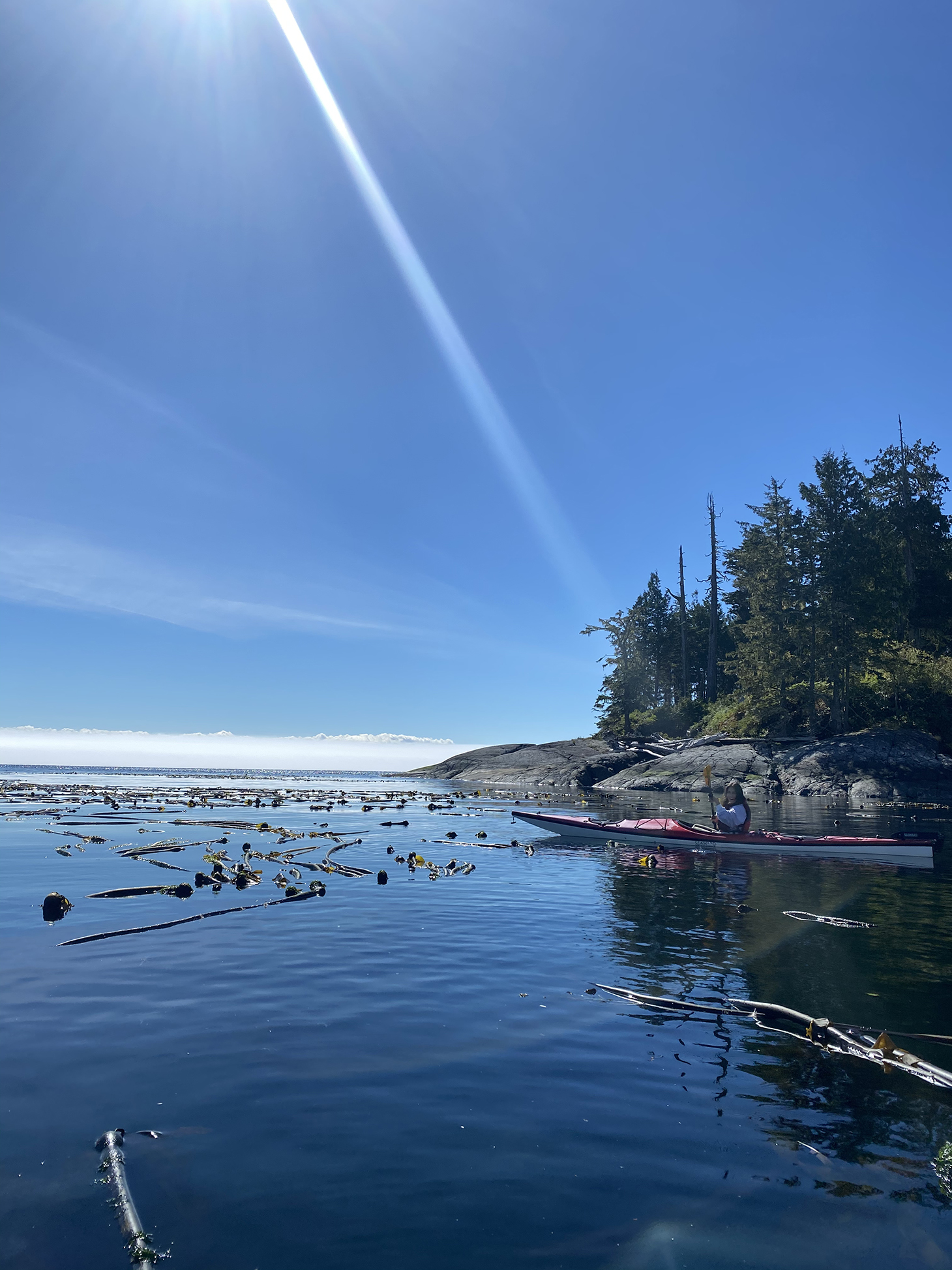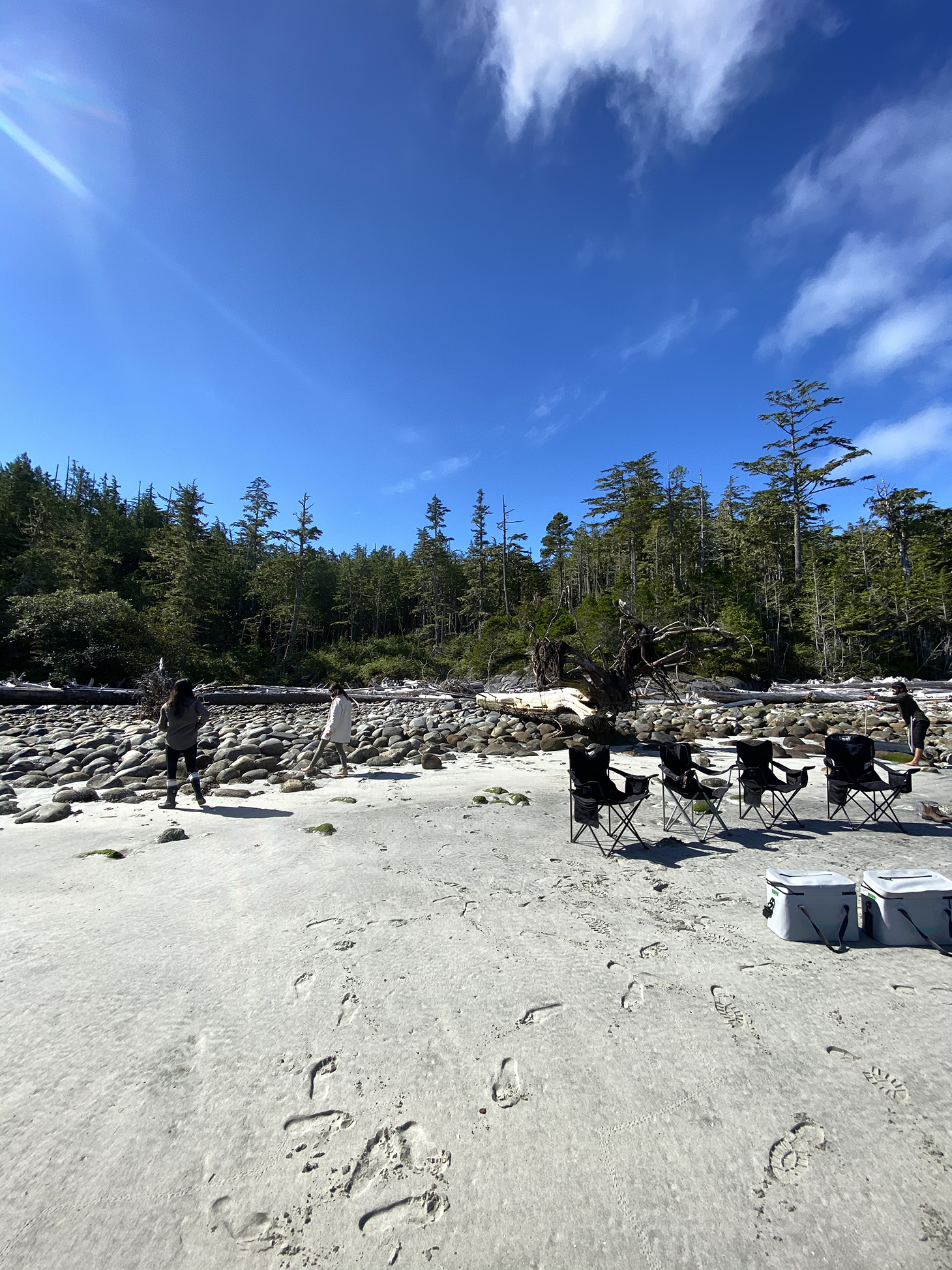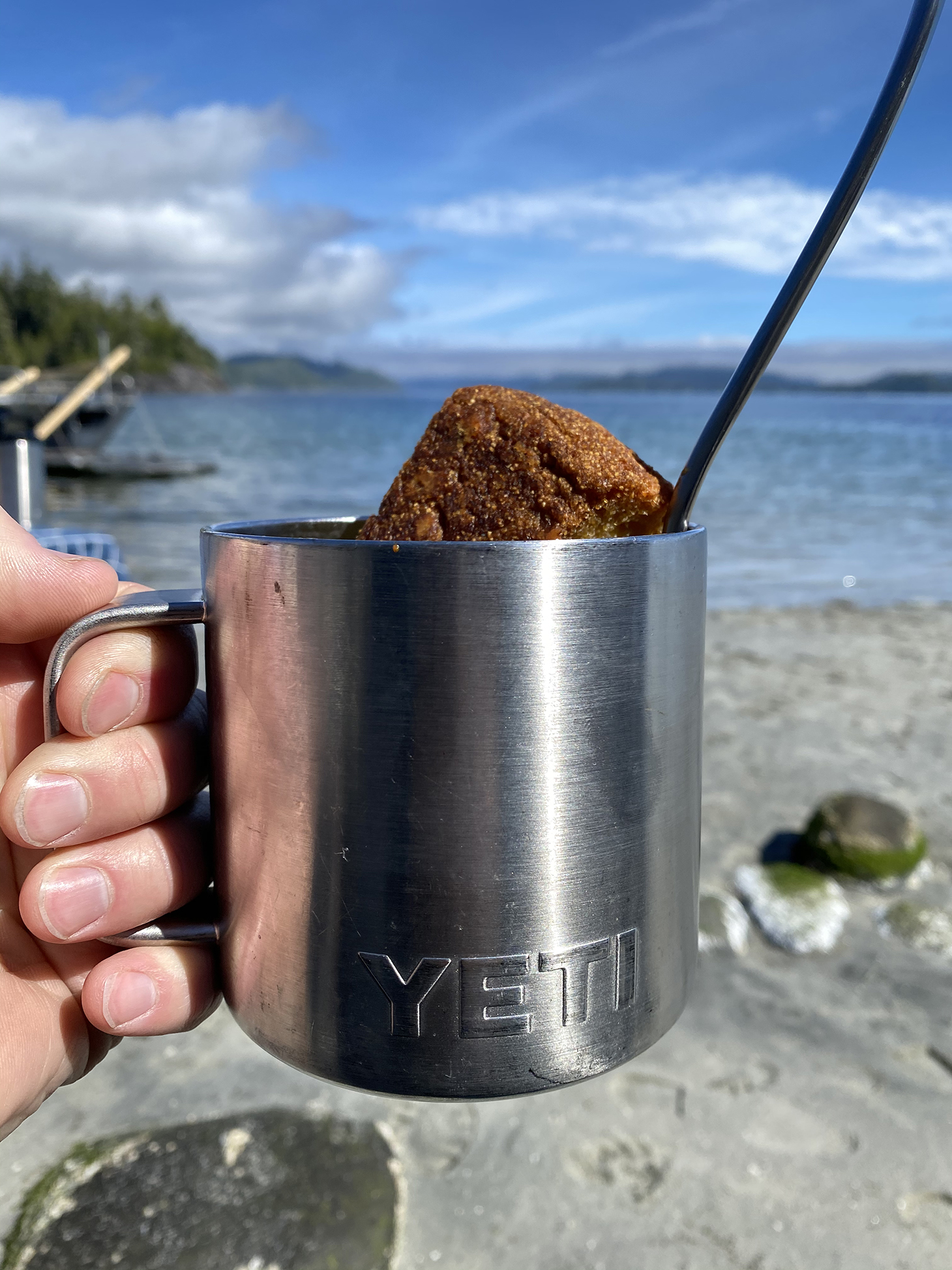 After we freshened up, we were all very eager to find out what the surprise was, and sure as shit, we climbed into a helicopter and were headed to the top of a glacial. It was about a 10 min helicopter ride, and we did an entire tour of the resort and then landed on the glacial. To top it off, the head chef had prepared fresh oysters and champagne for us to indulge in while we took in the beautiful scenery. I felt on top of the world. We finished off the champagne and oysters and headed back to the resort for dinner. The entire way back we were all losing our marbles, and we were all blown away and beside ourselves. For dinner we had smoked sablefish, it was around the time that I got my Tragger Smoker and was all over this smoked fish. We enjoyed our meal outside and drank wine until there was no more (or the staff cut us off!).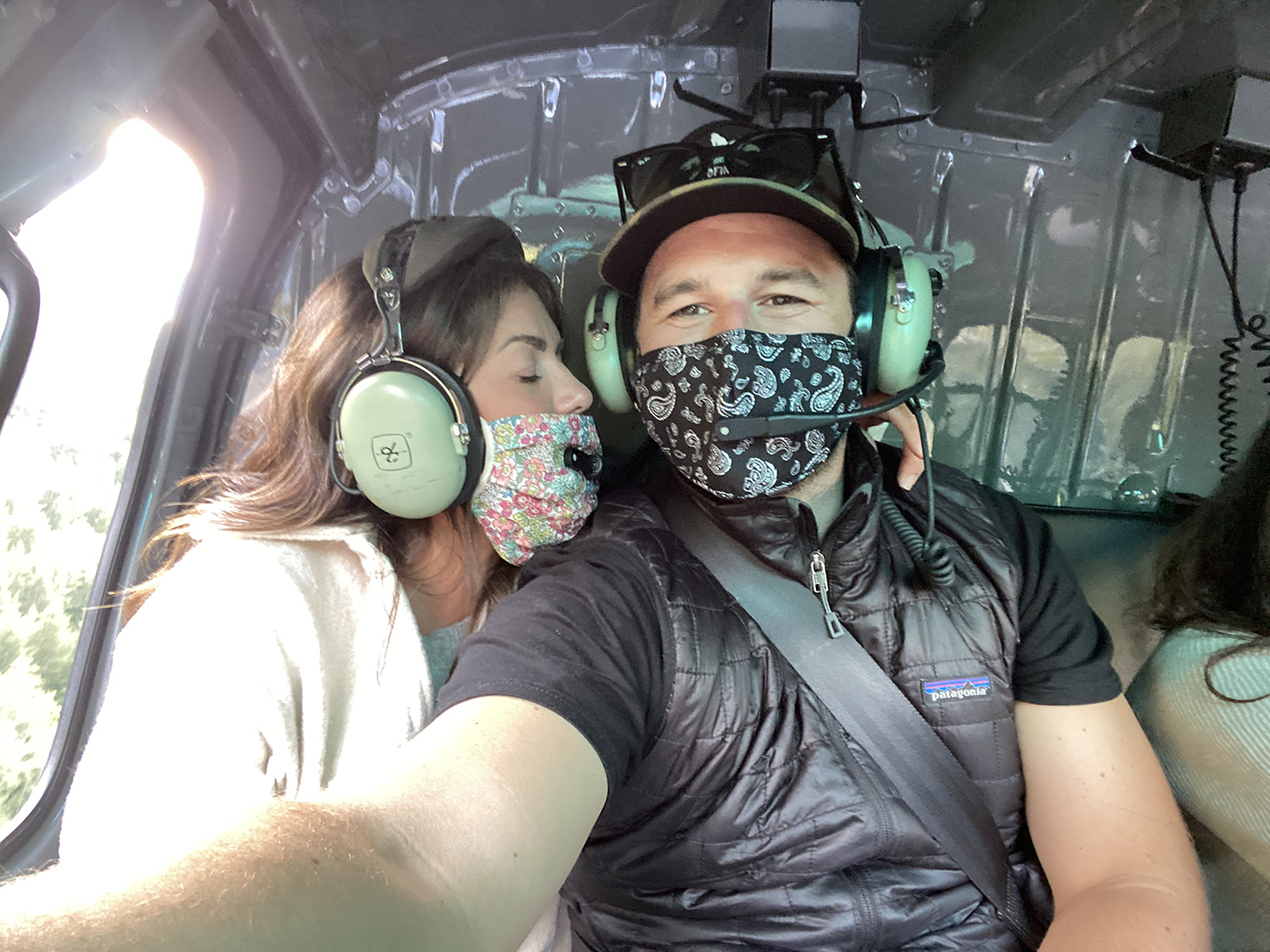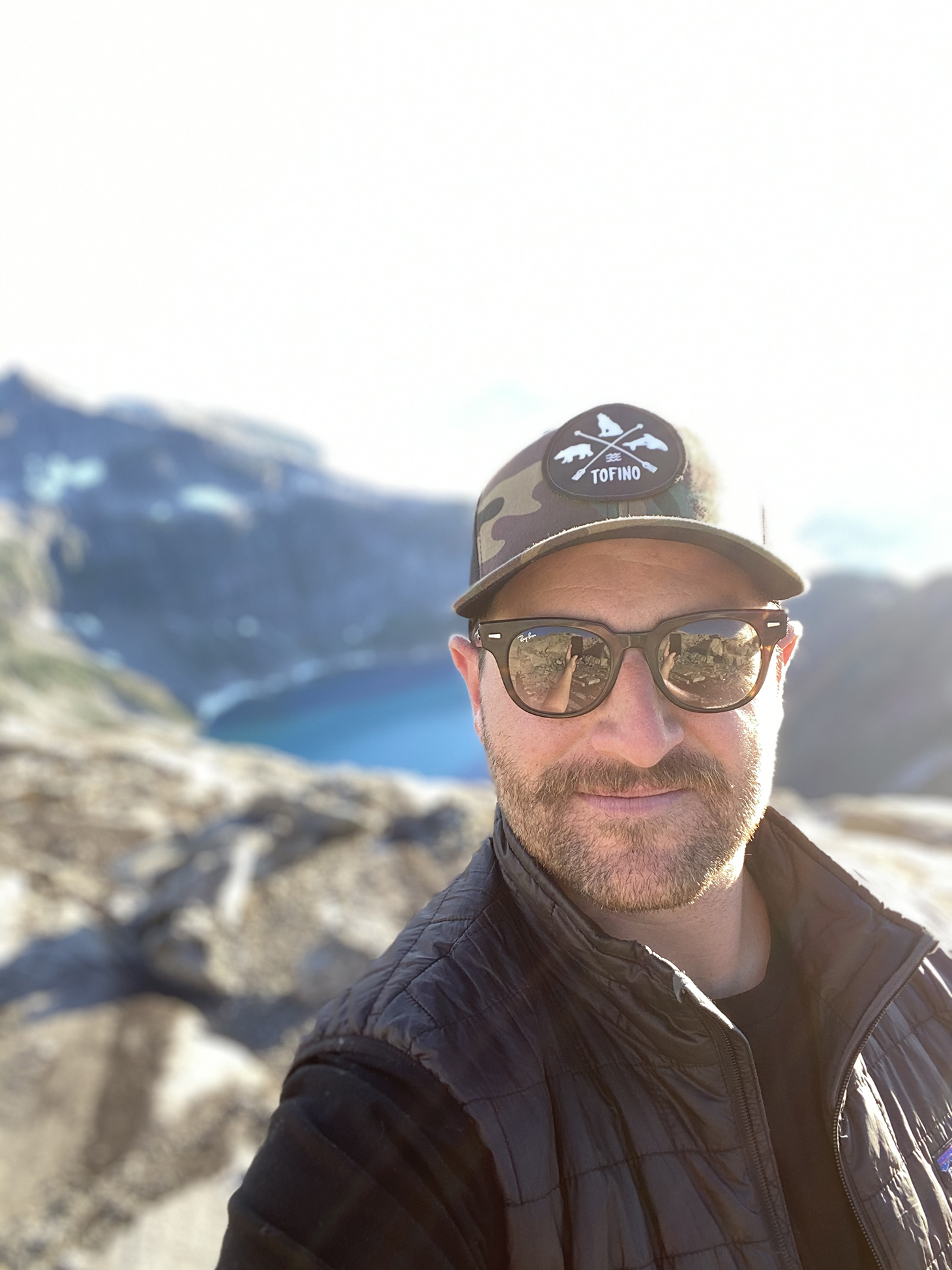 The next day, instead of travelling out as a group for the day, we broke up into couples. One couple started with a hike through the Great Bear Rainforest, and the other couple headed out on a boat ride to a floating sauna. Jill and I headed to the sauna first, and there two masseuses awaited us to treat us to a sea scrub massage. After that, we headed into the sauna to sweat it out and followed by a cold plunge into the ocean. While we were there, Tori and Charles were hiking, learning all about the land, and foraging. After Jill and I were done at the floating sauna, we swapped with Tori and Charles and experienced the hike that they went on. We ended the day and headed back to the resort. As we arrived at the resort, Jill and Tori wanted to get some action shots in the waterfall (you may have seen this epic fail on Jill's IGTV video, if you missed it check it out here!). Keep in mind that I had JUST recovered from my ankle surgery and was still hobbling around, so I was trying to teach Charles how to snap some pics of the girls… it was so comical. You had to be there!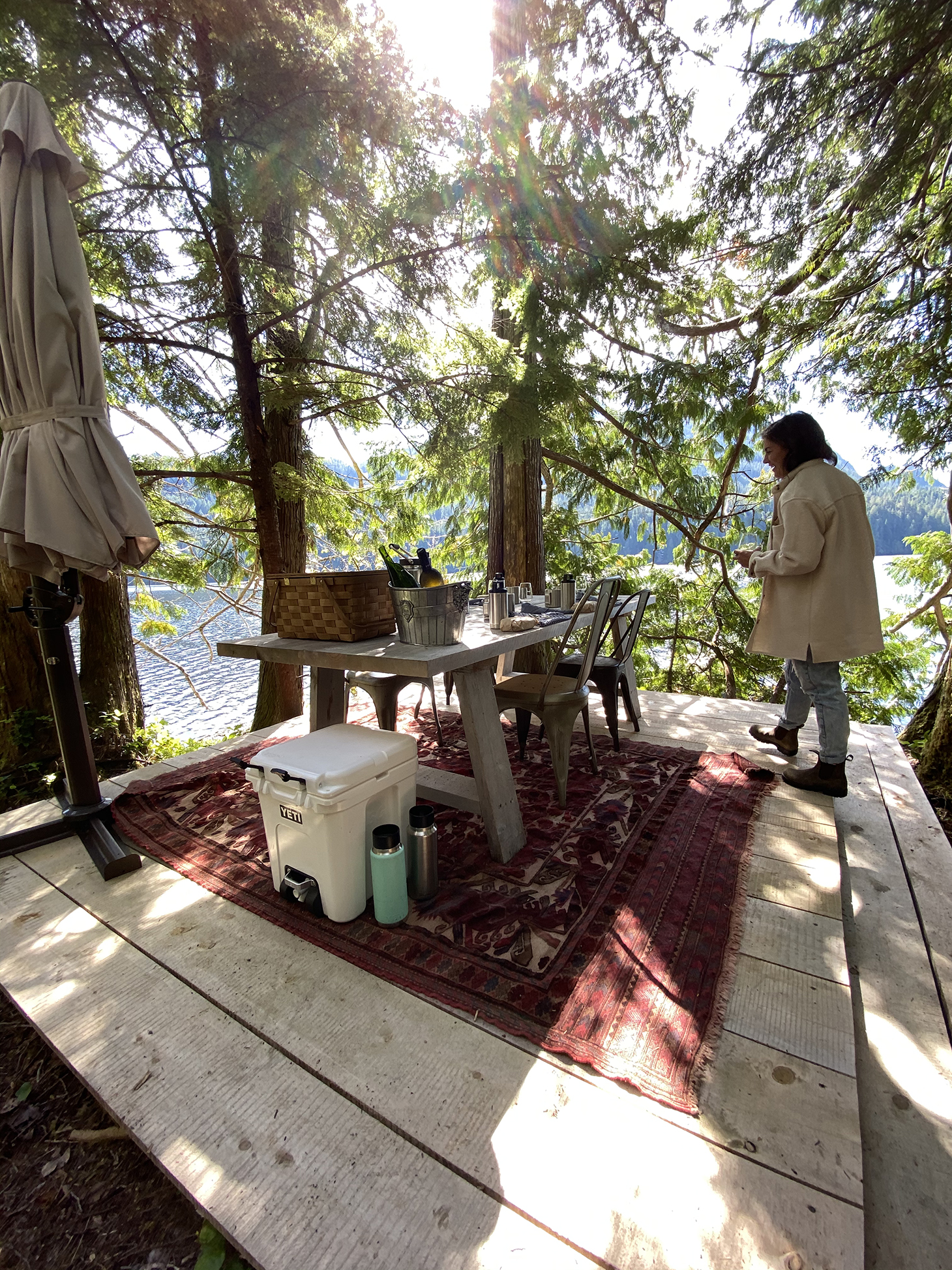 It was our final day in Nimmo Bay, and it was just as amazing as the first day. The team surprised us again with a boat tour. It was so nice to be out of the water, taking in all of the magical views. Fraser, one of Nimmo Bay's owners, went free diving off of the boat and pulled out a sea urchin from the ocean. For any of you sushi lovers out there, you'll know that uni comes from sea urchins. And we were lucky enough to taste it right from the ocean. It was absolutely unreal. Since I'm 100% pescatarian, I was in awe of this moment tasting uni straight from the ocean. We ended the day with a picnic in the woods. Jill got to sabre a bottle of champagne but struggled a little bit, and ended up catching her finger and started bleeding… such a classic Jill moment. LOL. It put a little damper on the celebration, but she was a trooper, and we wrapped her finger up. We had another amazing meal, all prep in Yeti containers. As usual, everything was over the top and exquisite, such an awesome way to end our magical weekend getaway.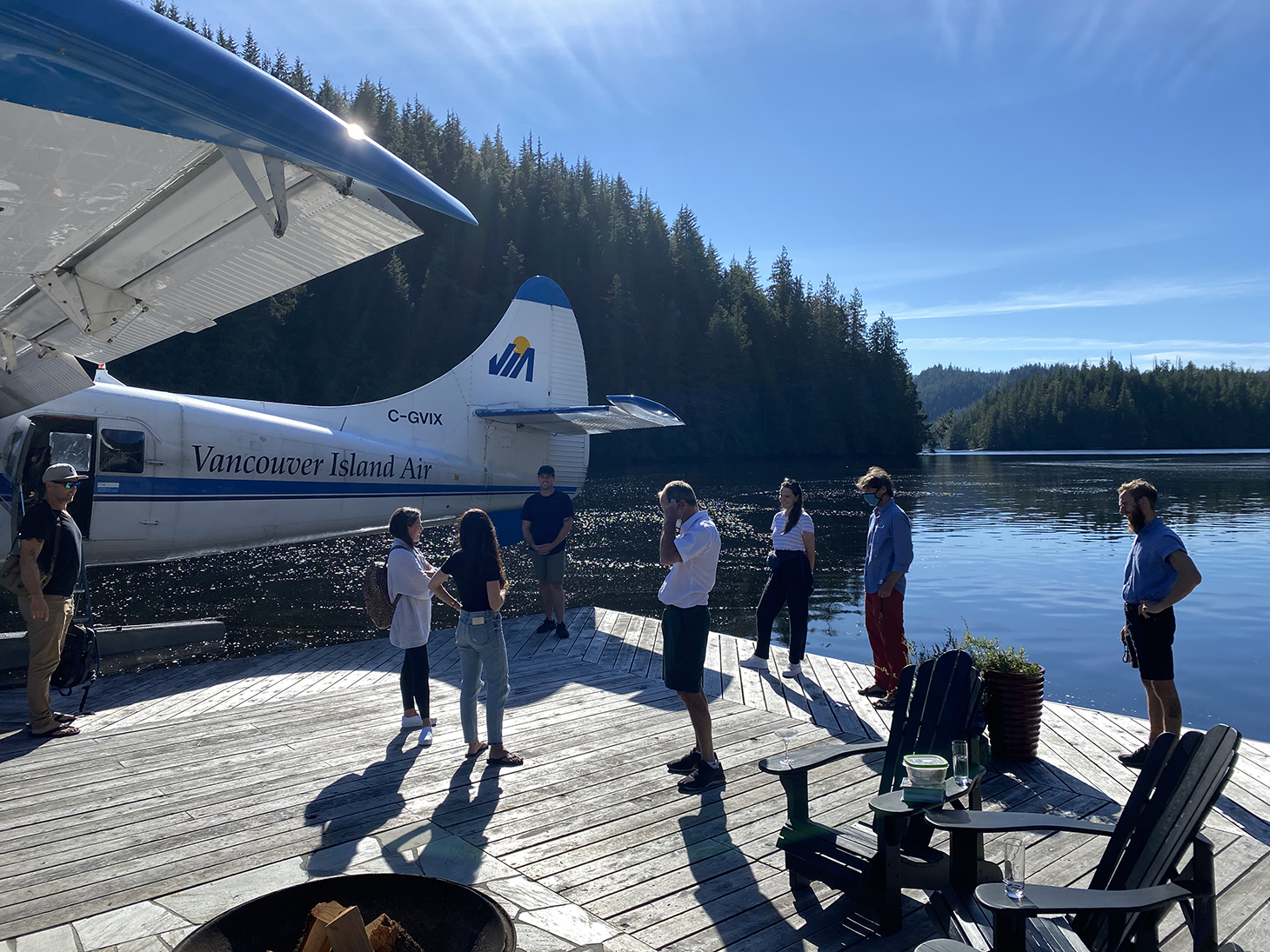 It was so bittersweet leaving Nimmo Bay. The entire team made this weekend so magical and memorable, even thinking back to our trip I can't wait to go back.
Gord our pilot took us on the quick route home, we ended up taking off and going up along the mountains to try and get back as quick as we could, we really missed the kids. Unfortunately, the forest fires had just kicked in, and we ended up flying into the smoke and couldn't see a thing. It made for a really bumpy ride. Tori got extreme motion sickness and filled up a record amount of puke bags, poor thing.
Just when I thought the trip couldn't get any better, Gord surprised us with beehives, to set up in the Spring. I'm so passionate about bees and I can't wait to share a blog about how powerful these little insects are and why the world needs more bees. A huge shoutout to Gord, who not only got us to and from Nimmo Bay safely but for surprising us with a hive for our garden this Summer. If you are looking to get your hands on some mason bees for this Summer, make sure to check out Gord's website here or on Instagram here!
To say the least, it was an absolute trip of a lifetime. While we were all very excited to get back to the kiddos, we were on a high from the trip. We talked about it the entire way home, reminiscing and reflecting on all that we got to experience. Even writing this blog 8 months later, I can't tell you how much I would love to go back!
Justin
While elements of the trip to Nimmo Bay were gifted, please note that all thoughts and opinions are my own.
---